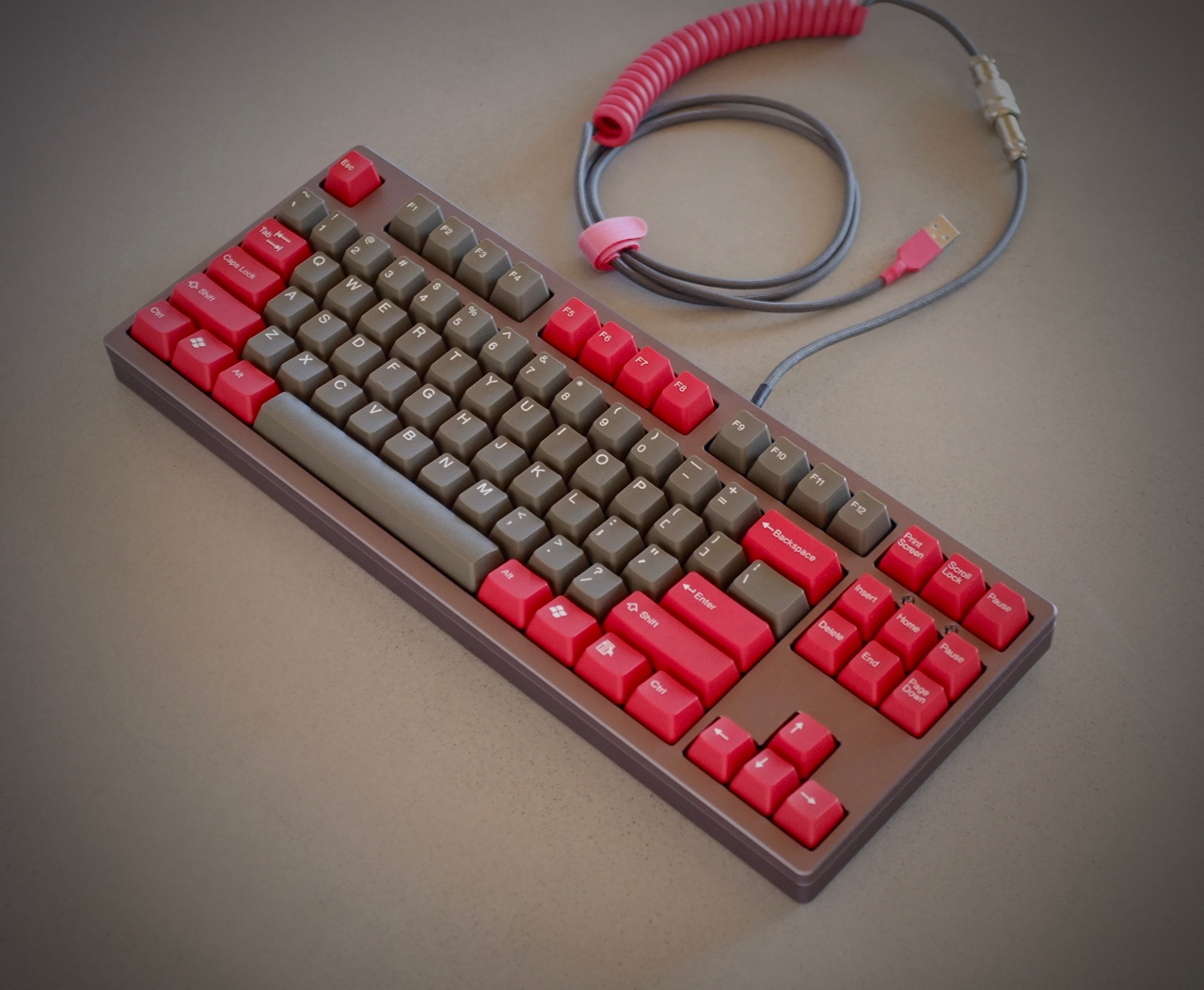 Model Number: KBPV8000 (modified)
Modified weight: 3.5lbs / 1.586 kg
Key switch type: Matias Quiet Click
Modified keycaps: Double-shot ABS
Modified keycap average thickness: 1.2 mm
With all of my recent custom keyboard projects, I've decided to share some of them.
Modifying a keyboard or building a custom from scratch can be intimidating, especially the first time. I know it was for me, especially since there are so many options, and because mistakes can be quite expensive. But once you get a few under your belt, it gets easier in a hurry. My hope is to encourage more people to take on custom keyboard projects and to provide a resource for people to learn from my successes and mistakes. Also, I'll try to detail the components used and where to buy them at the end of each post  in case you see something you want to build yourself.
This particular project is a modified keyboard, rather than one built from scratch. For anyone not wanting to go through the process of building a keyboard from scratch (sourcing parts, soldering, assembly, and often programming the key functions) this is an easy way to end up with something that feels very "custom" without a lot of the additional work.
The heart of this keyboard project is a V80 from KB Paradise, a Taiwanese keyboard company known (to me at least) as "that keyboard company that sells 60% and TKL keyboards with Matias and Fukka/Fuhua Alps-clone switches." As far as I know, Matias and KB Paradise are the only two keyboard manufacturers that offer Matias' switches, and Matias doesn't offer a 60% form factor keyboard (yet). Unlike Matias, KB Paradise provides higher-quality double-shot ABS keycaps rather than cheap lasered ones.  If you're in the U.S. you can purchase KB Paradise keyboards from mechanicalkeyboards.com
I'm a huge fan of Matias' Quiet Click switches and I wrote about them at-length in my Matias Quiet Pro review. In terms of tactility, there's not much from Cherry or Cherry-clones that comes near the tactility of Matias switches. While not as refined as their legendary Alps predecessors, Matias Quiet Clicks are nevertheless superb tactile switches.
In an effort to upgrade the KB Paradise's stock plastic case, I purchased an aftermarket aluminum TKL case from TEX Electronics Co., LTD another Taiwanese company that manufacturers computers and computer equipment. TEX makes a number of aftermarket aluminum and acrylic cases for various keyboard form-factors, and my experience is that they are manufactured to a very high degree of quality. TEX's TKL case is no exception. Everything, from the fit-and-finish, anodizing, and weight are all top-notch.  Yes, they're a little expensive, but well-worth the money. While there isn't a lot of information about TEX, I've often wondered if TEX and VORTEX (another keyboard manufacturer) are related or even the same company. If you look at VORTEX's logo, the "TEX" letters almost identical to TEX's logo. Maybe someone more knowledgeable can let me know.
Installing the TEX case is simple enough. After removing the screws on the back of the V80 case, you can very easily pull out the PCB, drop it into the TEX case, and screw the TEX back together. The TEX TKL case comes with 8 HEX screws to keep snug, and it also comes with screw-in aluminum riser feet (which I installed) to increase the incline of the keyboard.
While TEX's TKL aluminum case is superbly made, the included replacement USB cable is not. It's cheap and because it attaches directly to the PCB it isn't easily detachable, once installed. Moreover, it exits through a large opening in the back of the case, and because there's no way of securing it to anything other than the PCB, there's nothing to prevent it from being ripped out of the PCB, potentially causing damage to the PCB. This is a poor design in my opinion.
Luckily, I was able to work out a much better solution with Zap! Cables, a custom cable fabricator. Zap! cables are great for several reasons. First, their customer service is exceptional. Second, they offer cables with unique features like detachable connectors in the middle of the cable, and cool innovations like plastic coils. Third, I think they provide more color-way and configuration options than other custom cable companies. Lastly, with every purchase you get a Garbage Pail Kid trading card. I'm not sure it gets any better than that. If you're in the market for a custom USB cable, I recommend checking them out.
Zap! worked with me to design a cable that attaches directly to the V80 PCB, but has a detachable connector, giving it more flexibility. You can see more detail on the installation of the cable here. If you want to replicate this cable, they should be able to provide the same custom cable setup, you simply need to let them know it's for a KBP V80 and that it needs to connect directly to the PCB.
While Zap! Cables helped me solve the detachability issue, I was still left with the problem of the cord accidentally being ripped out of the PCB. To solve that issue I turned to the wonder product known as Sugru, which is essentially a moldable plastic glue. Using some black Sugru, I was able to create a plug or gasket to fill the USB cable hole, safely securing the cable to the case. Problem solved. If you've never used Sugru, do yourself a favor and try some. It's amazing stuff.
The final step in the process was upgrading the V80s stock lasered keycaps, which are by far the weakest link of the V80. They're thin and the lasered lettering looks like it would rub off, in a very short period of time. There aren't a ton of aftermarket Alps keycap options out there. Luckily both Signature Plastics and Tai-Hao have some that are reasonably easy to purchase. I opted for Tai-Hao's double-shot Red Dolch ABS keycaps in OEM profile on Massdrop. I've also seen them available on Ebay and Mechanicalkeyboards.com. One thing I will say is that removing keycaps from Alps keyboard requires much more force than Cherry switches. Removing all of the keycaps from an Alps board is slightly harrowing because of the force it takes to pull a keycap off of Alps switches. At times it can seems like you're going to pull the Alps switch right out of its solder. I've actually damaged some Matias switches from not pulling keycaps off correctly, so be cautious when swapping keycaps, or have a few extras to replace ones that get damaged.
Overall, I'm very happy with the way this keyboard turned out. The stock KB Paradise V80 is no slouch, and competes with some of the better-made keyboards out there. The TEX case is a worthy upgrade and worth the extra money, if you're looking for a top-shelf keyboard that will last you, well… forever basically.  Some people have reported chatter issues with the V80, but I think that has more to do with Matias' switches than KB Paradise's PCB or firmware. In fact, I had to replace 2 of the Matias switches that came with my V80 due to chatter issues. Desoldering the old switch and replacing it with a new one fixed the problem completely. While the Zap! USB cable solution is much better than the stock option from TEX, it isn't as good as simply having a mini USB port on the back of the keyboard case. All of that being said, if you're looking for a high-quality Alps TKL, this is a great way to go.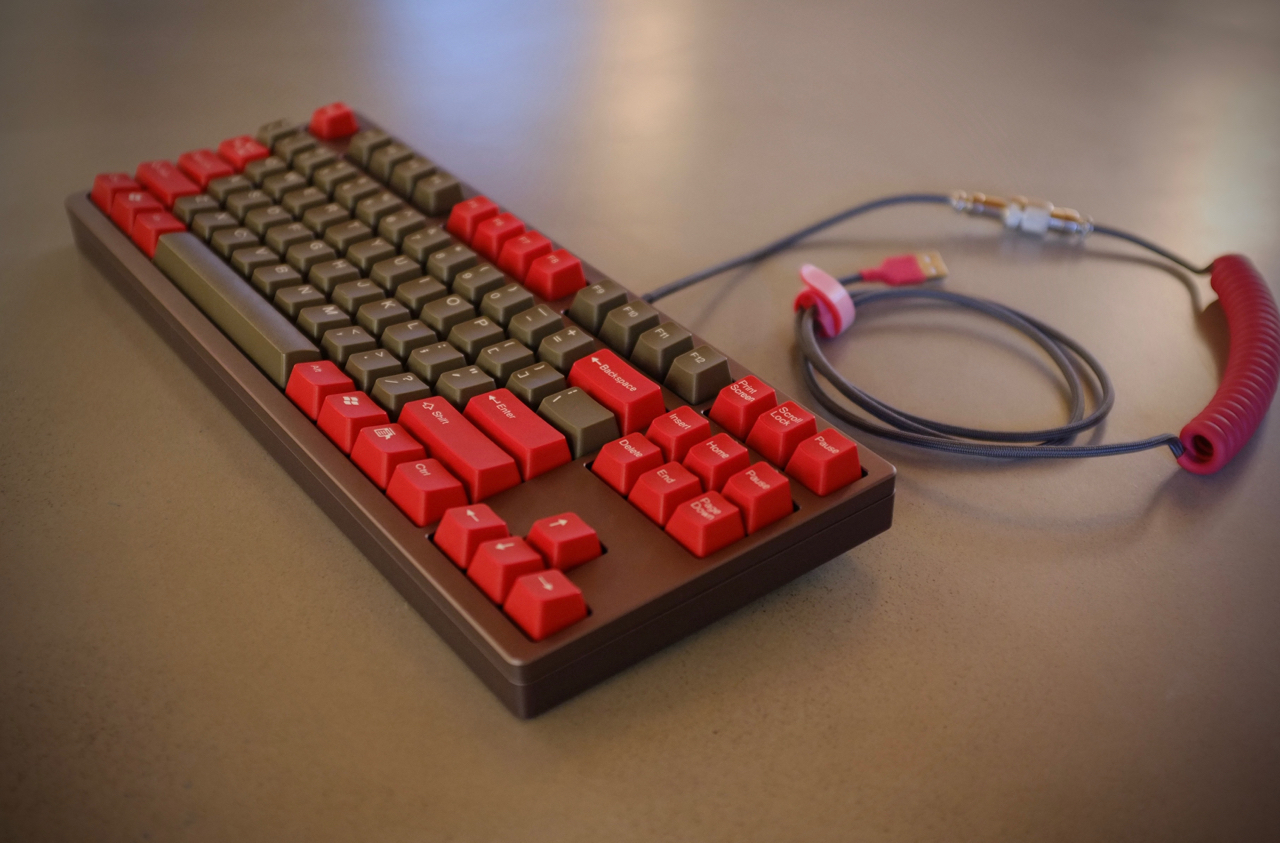 Here is a list of the components for this build, and where to source them:
Below is a video of me typing on the KB Paradise V80 modified keyboard.